Afghan Hound Paintings
These quality full colour, limited production run, individually numbered prints are available as numbered sets, or individually. Quality is guaranteed. If for any reason you are dissatisfied upon receipt, money will be refunded pending return of print in shipping condition.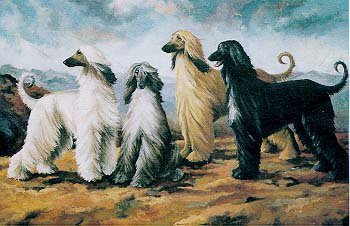 Aust & NZ Ch Calahorra Lion o Judah
Ch Calahorra Quetzlcoatl
The Flying Dutchman of Isfahan (imp USA)
Chandhara's Emir of Gray Dawn (imp UK)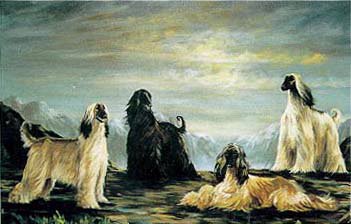 Ch Calahorra Mosque
Ch Calahorra Inca
Ch Calahorra Requiem
Ch Calahorra Barcarolle
Prices:
Per print: $85.00 AUD ($68.00 USD)
Per set: $150.00 AUD ($120.00 USD)
Club purchase price minimum 10 sets less 20% discount
$120.00 AUD, total $1200.00 AUD ($96.00 USD, total $960.00 USD).
Club credit facilities by arrangement.
Postage costs :
Australia Free
Rest of the world $6.00 AUD
Make payments to:
Naturally Pty Ltd
51 Taber Street
MENANGLE PARK NSW 2563 AUSTRALIA